Do you need to reach a wide audience with a message that's personalized?
Do you need to reach a large group of clients, colleagues, members, shareholders, media contacts, or other groups?
With VisionLab and the FaxBlast Broadcast fax service, all you need to do is e-mail us your document and the list of fax recipients. We'll send it all for you! Let us handle the logistics and details.
The VisionLab advantage…
FaxBlast service is less time-consuming than phone calls, cheaper than direct mail, and more "urgent" than e-mail. Our extensive mail-merge system lets you use a wide variety of fonts, including script fonts that can give your fax a handwritten look that's sure to grab your audience's attention.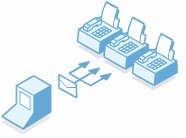 How it works?
Create the document you want to send out, including blank fields for personalizing it, such as Name and Title.
E-mail us the document and the list of recipients. Make sure to include their fax numbers and all fields you wish to merge, for example: Name; Title; Company; etc.
VisionLab's system merges the list with the document and then sends you a test fax. Once you approve it, we send the fax to your list of recipients. Finally, we send you a detailed report via e-mail once the broadcast fax is complete.
If you hit a snag or have any questions, you can reach a live customer service representative during business hours.
FaxBlast service: as easy as 1, 2, 3!